Hindi Typing Online
We provide free online Hindi Typing software which uses Google transliteration typing service. It provides Hindi typing in fast, easy and accurate manners and making it easy for users to type Hindi Language on the Web.
This tool is very easy to use. You just need to type in English and hit a spacebar key and the word will be automatically transliterated into Hindi. You can also click on the selected word to get more options on the dropdown menu and you can choose the right word according to your requirement.
This tool is very simple and easy to use and you really don't need to practice Hindi typing .You just need to enter spacebar after typing the words and word will be transliterated to Hindi
We provide facility to send this typed Hindi content to anyone you wish to using our free email service and also you can download the typed content in a file using our free download option.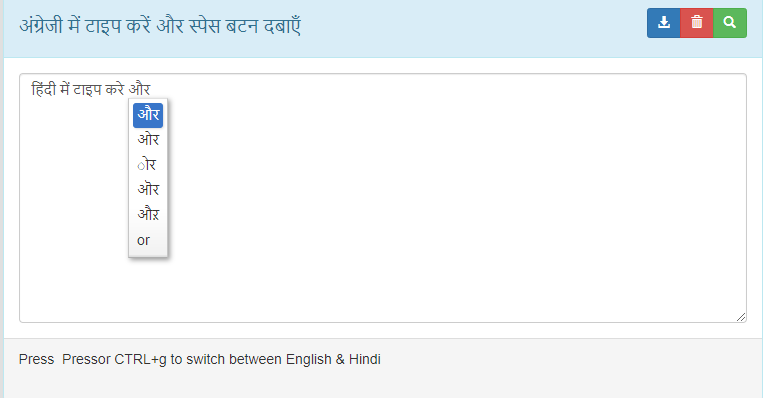 Features:
Just Type the Romanized English words in the above text area and that words will be converted to Hindi automatically. For example, If you type "Kya haal hai" becomes "क्या हाल है"
By click on any words you will get more options of the words and you can choose the best words as per your requirement. .
By Pressing (Ctrl + G) together to ,You can toggle between Hindi and English
Using our free email option, you can also send email in Hindi to anyone.
Using our free download option, You can download Hindi content in a text file.
sponsored links
Hindi Virtual Keyboard for Online Typing
We also provide free Hindi Virtual Keyboard to our users which will help them to type using computer mouse only. This tool is very easy to use as you just have to click on the letters you want to write and that word will get automatically written on the text box and then you can copy and paste those words to anywhere .By default, Hindi keyboard is enabled.
How use Online English to Hindi Typing Keyboard
Best Hindi Typing tool is very easy tool to type in hindi without using hindi keyboard on computer and mobile . You just have to write in English and press space, this tool will automatically convert the text in Hindi. For example, If you type: "mera naam ajay hai" and it will converted to hindi "मेरा नाम अजय है"
Hindi Language
Hindi is a very popular language and widely spoken in india.Hindi is the third most spoken language with over 615 Million Speakers in 2020. The script using in writing Hindi is Devanagri.Hindi is one of the two official languages of the Government of India along with English Language.
Hindi is a language belongs to Indo-Aryan Languages. It's spoken in north and central states of India. Hindi language used Devanagri script. Hindi is very similar to Urdu but only difference is in way of writing. Urdu uses Arab system of signs while writing. Hindi is the third most common language in the world. Over 615 million people know Hindi.
In India, Over 60% of Indians can speak Hindi. In north India, Hindi is widely written and spoken language. Hindi or more precisely Modern Standard Hindi has been described as a standardised and Sanskritised register of the Hindustani Language (Hindi-Urdu). Hindi is a native language in Delhi, Haryana and also in some part of Rajasthan, Uttar Pradesh, Bihar, Punjab and Madhya Pradesh.
| State/ Union Territories | Type |
| --- | --- |
| Bihar | State |
| Chhattisgarh | State |
| Haryana | State |
| Himachal Pradesh | State |
| Jharkhand | State |
| Madhya Pradesh | State |
| Mizoram | State |
| Rajasthan | State |
| Uttar Pradesh | State |
| Uttarakhand | State |
| National Capital Territory | Union Territories |
| Andaman and Nicobar Islands | Union Territories |
| Dadra and Nagar Haveli and Daman and Diu | Union Territories |