If you can type just by voice that that will be great. And we provide you that feature of typing with Hindi Voice Typing tool.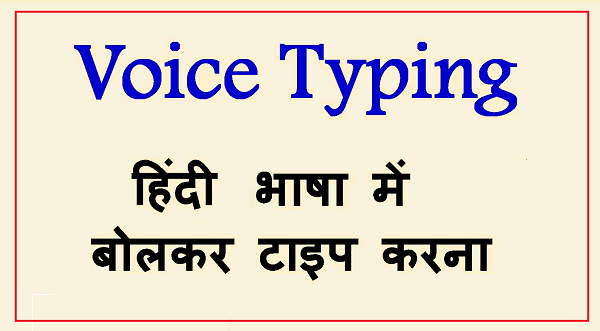 People love to type by using Hindi voice typing as that is very easy, convenient and fast to type in Hindi. It is of great use for the people with disabilities. Our tool uses the Google Voice API's services in Chrome browser to convert your voice to text. We tried best to make our tool easy for our users to use. We tried to make it fast so that as our users speak it gets converted to Hindi very fast.
This is really a great importance of all the people who works regularly on internet and writes too much text regularly. Many content writers or article writers use this feature very efficiently to write text. This translation of voice to text feature is a easy to use but require little practice so that you can use this feature efficiently and have great result in daily online work.
Our Online Voice Hindi Typing tool has following requirement to convert voice to text:
Microphone (For listening the voice)
Good Internet connection speed (For voice gets converted efficiently)
Google Chrome Browser. (As our tool users Google services which require chrome browser)
In other browsers, voice typing, unfortunately, does not work.
Note: Our voice typing tool does not work on other browsers then Google Chrome.
How to use this tool to convert voice to text?
Open this page on the Chrome Browser.
Select the language mention in dropdown on the bottom left corner of the text area.
Click on the microphone icon on the top-right corner of text area.
Now click on "allow" browser option mention the pop-up.
You can now speak the small phases clearly and that text get printed on the text area.
If you want to copy the text written in the text area, then you just have to select the text and use the keyboard shortcut Ctrl + C to copy it to clipboard and paste it to any text editor or email.
Google Web Speech API is very efficient way to convert speech to text. It really helpful in speeding the text writing.
Voice Typing
Voice typing is all about typing something with your own voice. With the help of this feature we can type and edit anything by speaking across many different websites or text. Such as: we can directly type long emails with the help of our voice, we can tweet our thoughts very easily. Even though we can learn pronunciation as well. As it correctly works only if our pronunciation is correct and if not so, then it is useless for that individual. Voice typing helps us in typing our text very effectively. It's really very essential for all of us as it is really very time consuming.
Let's take an live example:
If a writer wants to publish his/her own book , then instead of typing the whole book, he Or she can type it with the help of their own voice. This makes their task easy and can help them to achieve their goal very soon. That's why this is the most trusted thing which is used across more than 50 countries .
This can be used by anyone. Either it's a Student, writer, artist, sales person, medical professionals, elders, Or any desirable Person who wants to work more effectively use Voice typing daily. We can type in any of our desirable language either English, Hindi, Portuguese etc .This is one of the most likeable feature among all the age groups. Hence, also helps in improving communication skills.